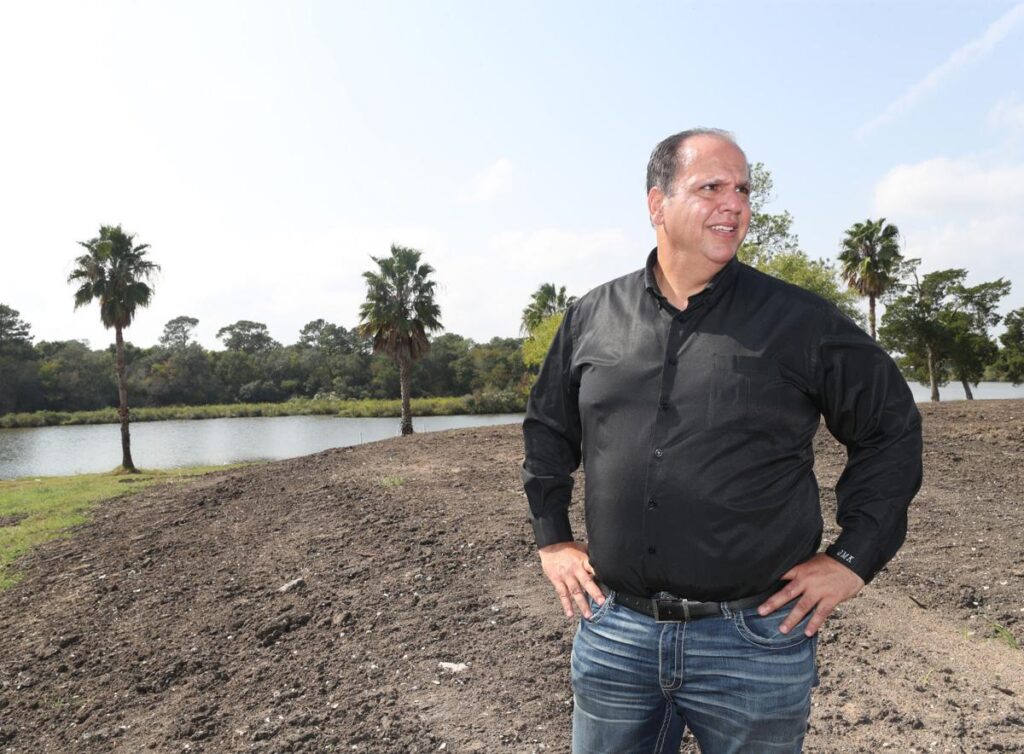 Room service: Friendswood attorney and developer Jerome Karam has signed a franchise agreement that will brand his island boutique hotel, underway at the former Falstaff Brewery site, as a Trademark Collection by Wyndham, he said.
The 110-room hotel, 3303 Church St. in Galveston, will be an upscale property, Karam said. Wyndham bills the Trademark Collection brand as one meant for "independent entrepreneurs who have built an iconic hotel and are looking to increase visibility and build a legacy."
Karam had negotiated with several hotel brands before choosing Wyndham, he said. Under the Wyndham brand, hotel owners can retain their own vision and character in franchise agreements.
"This was the right fit," Karam said. "I wanted to maintain creative control, and they have an amazing reputation."
Karam in June 2015 bought the 313,000-square-foot brewery complex, which had been constructed in 1905 and had greatly deteriorated since closing in 1981.
Trademark Collection is one of Wyndham's fastest-growing soft brands, said Patrick Bursey, director of development covering eight states for Wyndham. Karam's boutique hotel would have the benefit of a strong brand and Wyndham's global distribution, central booking system and traveler rewards program, Bursey said.
Soft brands also have advantages for owners because there are fewer "hard brand" requirements about property design and improvement plans, according to industry trackers.
"We are incredibly excited to partner with Jerome and his family; they do some really unique developments throughout the Texas region," Bursey said.
The hotel is well positioned to capture the cruise and leisure traveler market, Bursey said.
Since acquiring the Falstaff property, Karam has developed a climate-controlled storage facility there and last year unveiled Events @ The Tasting Room in the original tasting room of the former brewery. Crews are working on the hotel, which will include a pool that will tie into the events center. Friendswood-based Pinnacle Construction, of which Cody Owen is a principal, is the contractor. The hotel is scheduled for completion by February 2022, Karam said.
Suite or sour? Speaking of Wyndham, it's time to check in — or out — on the high-profile announcement in January that Texas-based SRH Hospitality Galveston Investments would acquire iconic island properties Hotel Galvez and The Tremont House from Mitchell Historic Properties, controlled by the family of the late George P. and Cynthia Mitchell.
Mitchell Historic Properties owns the hotels, but they're managed by Wyndham Grand Hotels.
Those in the know say the acquisition is still on, but precarious, whereas others with some insight say it isn't going to happen. The official statement from the Mitchell family this week was, "The sale of Hotel Galvez and Tremont House has not taken place, and we don't have an update at this time."
Joe Rozier, general manager of real estate operations for Mitchell Historic Properties, said: "We will not be commenting on the transaction as this time."
SRH Hospitality didn't respond to Biz Buzz inquiries.
In January, some close to the negotiations said the sale would bring a change of hotel brands, and new owners would replace Wyndham with Marriott's Autograph Collection, which includes properties Marriott describes as "rich in craft and character, design, architecture and unexpected back-stories."
Purchase and sale agreement deadlines for the Galveston properties and any extensions have passed, sources say. Some sources say SRH Hospitality in January was circulating a prospectus to potential investors seeking financing. But the hotel industry has been hit extremely hard by the COVID-19 pandemic, making potential investors nervous and financing difficult to secure.
Earlier this year, the American Hotel & Lodging Association and hundreds of industry executives sent a letter to Congress asking for urgent relief in the face of unprecedented financial difficulties.
"With record low travel demand, thousands of hotels can't afford to pay their commercial mortgages and are facing foreclosure with the harsh reality of having to close their doors permanently," said Chip Rogers, CEO of the association. "Tens of thousands of hotel employees will lose their jobs and small business industries that depend on these hotels to drive local tourism and economic activity will likely face a similar fate."
Nationwide, it's not clear how many hotels are behind on their loan payments, but figures are available on hotel loans that have been bundled and sold to investors as commercial mortgage-backed securities, the Los Angeles Times reported in September. Payments on 16.77 percent of those loans are more than 30 days late, according to Fitch Ratings — up dramatically from less than 2 percent before the industry began feeling the pandemic's financial effects.
The 224-room Hotel Galvez, 2024 Seawall Blvd., traces its history to 1911, when the Galveston Hotel Co. announced plans for a new year-round beach hotel.
The Tremont House, which features 119 rooms, is at 2300 Ship Mechanic Row in the island's downtown. Stay tuned.
Rooftop report: Meanwhile, the pandemic hasn't at all slowed the ever-enterprising Karam, whose development firm JMK5 is fast-becoming the county's largest commercial property owner. Karam's residential developments also are moving along, including a luxury project in Dickinson called Bayou Bend Estates. Gehan Builders has signed an agreement to buy 53 lots and Karam will retain 24, with 12 on the water and 12 interior lots where he'll build homes on speculation through Friendswood-based Crystal Creek Builders. Gehan houses will start at about $350,000 and Crystal Creek houses will start at $425,000 and go up to $1 million.
Bayou Bend Estates, on 58 acres at the corner of Country Club Drive and FM 517, is on property that was previously home to Dickinson Country Club. Crews already have begun street and underground construction, and Crystal Creek Builders has begun work on five houses scheduled to be completed in the spring next year.
Karam bought the property from John Hill in 2016. The country club was struggling when Dickinson Leisure Industries DLI, of which Hill was a principal, acquired the property in 2000 with plans for developing an RV resort and driving range.
Those plans changed after the city zoned the property residential, making a golf course a nonconforming use.
Rare real estate: Karam also is behind Hideaway Estates in Galveston, where he has secured permits to install underground utilities and infrastructure in a development that will include 39 houses selling for $299,000 in the interior of the development and $399,000 on the water.
Hideaway Estates is on the southeast corner of Zingleman and Ostermeyer roads on Gangs Bayou on the island's West End. Installation of utilities and infrastructure should be complete by May, when Karam plans to begin building 10 homes on speculation, he said. Building on speculation involves development or construction with no formal commitment from the end users of the finished product.
Karam, who late last year acquired the Hideaway Estates property, is retaining all the lots in a development he said would deliver a rare product — affordable houses with waterfront views. The development is meant to meet a need and demand on the island for housing that professionals, including police officers and teachers, can afford, Karam said.
Hoot and holler: Anyone else notice all that landscape work at Hooters, 6028 Heards Lane in Galveston? The chain known for chicken wings and flirty servers is planning to return the week of Nov. 9, said Bruce Skala, senior vice president of marketing for the breastaurant chain.
Hooters has been closed for months under pandemic precautions, leading some islanders to wonder about whether it would return at all.