Tom Bassing The Daily News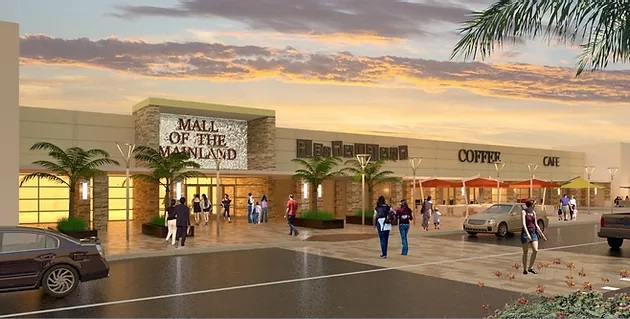 The current owners of the Mall of the Mainland are working to convince Galveston-area eateries to expand into a 28,000-square-foot space at the Texas City shopping center.
Owners Jerome Karam and Chris Malooly, who closed on the mall at 10000 Emmett F. Lowry Expressway in February 2015, have since renovated much of the quarter-century-old property and attracted new tenants, large and small.
On Wednesday, the mall owners, with Texas City-La Marque Chamber of Commerce and city officials on hand, hosted a presentation and tour at the center that lured several restaurateurs who had expressed interest in the concept.
Among them were Mike Bouvier of Hey Mikey's; Keith Lilley of Dickinson Bar-B-Que and Steakhouse; Mike Dean with Yagas Café & Bar; and Benno Deltz of Benno's Enterprises.
A similar event is planned for Monday morning.
To date, none of the restaurant owners who have shown interest in the concept have signed on.
The restaurant project was the brain child of funeral director Jay Carnes, who sits on the Texas City-La Marque Chamber of Commerce.
"I threw this pitch out: We'd really like to bring some nice restaurants here," Carnes said. "We really don't have many restaurants here in Texas City other than chains, so I pitched the idea to Jerome, saying, 'Wouldn't it be nice if we could make a restaurant row at the mall?'"
Karam embraced the idea, as did Texas City and chamber of commerce officials.
"We're excited about the possibilities," chamber President Jenny Senter said Thursday at the initial presentation. "The Mall of the Mainland is the gateway to Texas City. This would be a great addition."
The two-story interior mall boasts 451,000 square feet, not including several adjacent buildings that formerly housed J.C. Penney and Macy's stores.
Karam and Malooly also own those structures.
The mall itself is now about 65 percent occupied, Karam said. That success bodes well, he said: "We're well financed, and we're not going to fail."
Malooly, who is Karam's wife's first cousin, is an El Paso-based developer and has financed both the mall acquisition and its interior and exterior remodels.
"All told, this is probably going to end up being a $50 million project," Malooly said. "That includes acquisition costs and tenant improvements."
David Watson, the founder of Galveston-based David Watson Architects & Associates, is overseeing the renovations, including the space intended for the restaurant cluster.
"We have started the interior structure, and we're about to begin exterior framing next week," Watson said. "And we're going to help with the build out of the restaurants. We're looking for five or six in all."
Karam said the ongoing presence of a Cinemark 12 theater complex inside the mall will allow him to provide below-market rents to any restaurant owners who sign on.
"Cinemark paid us market rate, and because they pay us market rates, we're able to give everyone else below-market rates," he said.
Remodeling of shared space within the proposed restaurant cluster is progressing.
"The first phase should be finished in the next 60 days," Watson said.