LAURA ELDER The Daily News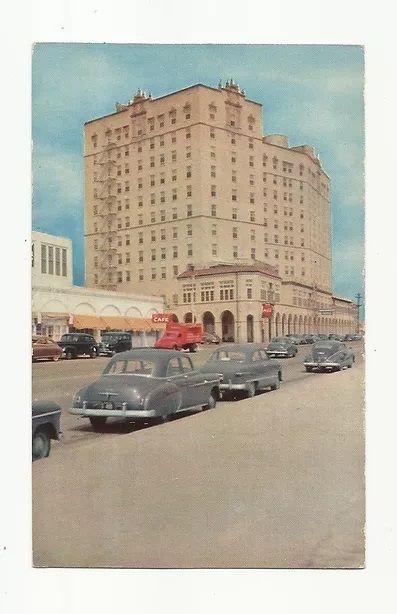 Room service: Plans for a 90-room boutique hotel at the Falstaff Brewerysite, 3303 Church St. on the island, are on the fast track.Friendswood attorney and developer Jerome Karam has planned a boutique hotel, which are small, stylish properties, at the Falstaff site ever since he bought the property a year ago. But the hotel, he has always said, was a few years away.But Karam is pushing ahead with the development of a 10-story hotel at the site after Nashville-based Premier Parking late last month agreed to buy 100,000 square feet of the 313,000-square-foot Falstaff Brewery property for cruise-ship passenger parking. The acquisition provides Karam with the revenue to build the boutique hotel sooner than he planned, he said.Cruise control: Initially, Karam had planned to generate revenue for the hotel, which will include a World Gym on the bottom floor, and other development at the site by leasing the 100,000 square feet of property, which he transformed into a 350-space, indoor-outdoor parking facility, to thePort of Galveston. In March, however, that deal sank over lease terms the port presented. Soon after, Karam began negotiating to lease the parking facility to island-based Discount Parking. But that deal faltered, too. Then Premier Parking drove in, offering to buy the parking development, Karam said.
"They made a quick purchase," Karam said. Karam will use proceeds from the sale to commence developing the hotel along with a six-story structure on the Falstaff property that will house a bar, residential units and offices. The sale price of the property was disclosed.Stay tuned.
More on the mainland: Meanwhile, the ever enterprising Karam also has signed on new tenants at the building formerly occupied by Macy's at Mall of the Mainland, 10000 Emmett F. Lowry Expressway in Texas City.Karam and an out-of-state partner acquired the mall last year, and before that, snapped up separately owned department stores at the property, including the shell of a Macy's, which is now home to Palais Royal, a 42,000-square-foot World Gym and Galaxy Nutrition.Good hair day: Most recently, Tuscany Village Salon signed a lease for 15,000 square feet at the former Macy's building, which it will lease to stylists. David Miller owns the Texas City salon, along with several others in the Houston area.The big chill: Meanwhile, Dr. Kourtni Howard also has signed a lease for space in the Macy's building, Karam reports. Howard plans to open her chiropractic practice in the building and offer cryotherapy, a highly popular cooling treatment that requires patients to spend time in a "cryosauna" that's cooled minus-300 degrees Fahrenheit.Cryotherapy is billed as a treatment to reduce inflammation, for pain recovery, to improve athletic performance and even slow signs of aging, according to reports.Dynamic duo: Also new to the Macy's building is Dynamic Athlete Builders, owned by two former Texas City High School football stars — Brandon Robinson, 27, and Johnny Thomas. Both were quarterbacks in high school — Robinson in 2006 with Thomas a year behind. Robinson went on to play for McNeese State and Thomas played for Oklahoma State, among other organizations.Dynamic Athlete Builders, which features a 50-yard field, offers speed, agility and other types of training for athletes, along with fitness programs.Help with homework: Meanwhile, another young Galveston County resident has launched a business here. Shannon Caldwell, 25, is behind Dickinson-based Submit Your Assignments, a custom-writing firm that helps students with school essays, research papers, and more. Caldwell majored in kinesiology at the University of Houston and is a student of online Ashford University, working on master's degree. She works for Verizon, which helps pay for her higher education pursuits. Caldwell happened to be very good at writing papers in high school and college, she said. She's also enlisted other strong writers to assist in the business.
Visit www.submityourassignments.org for information.Smokin' buzz: On the island, Sergio David, 21, has opened Galveston Island Cigar Company, 1813 61st St. David, who is from Venezuela, moved to the island to study at Texas A&M University, where he's a senior studying Maritime Administration. David's father offered him a cigar at age 16 hoping it would keep him from taking up the habit."It backfired and here we are," David said. Galveston Island Cigar Company is a traditional cigar shop offering a lounge with leather chairs, a walk-in humidor and more than 100 different cigars for sale. The shop also sells pipes and high-end cigarettes.Although the shop is already open, David is planning to make it official during grand-opening festivities June 18, with a raffle and refreshments beginning at 5 p.m. that day.Checkout lane: Inquiring readers want to know what will become of Kroger employees at the 200 Interstate 45 store in League City, which will close when the grocery chain opens its 124,000-square-foot Marketplace concept at state Highway 96 and Hobbs Road on June 29.The new store will create 200 full- and part-time jobs, Kroger officials say. Kroger has given the 100 employees at the I-45 store the opportunity to transfer to the new store, Kroger officials say.Buzz blooper: Meanwhile, this column last week reported the Kroger Marketplace was across from H-E-B. It isn't. That was the wrong Kroger. H-E-B, which opened in 2014 on the southeast corner of League City Parkway and South Shore Boulevard, is across from a Kroger, which is on the intersection's northeast corner.Shoptalk: Antiquing is increasingly an island tourism draw. And the historic seaport city is welcoming a new shop to the scene. Jason Guzman has opened Pink Pearl Antiques, 714 25th St. The shop specializes in antiques, collectibles, vintage items and home décor. Silver market: As more retirement and senior living communities flock to the county, long established ones are stepping up marketing efforts to appeal to potential residents.To stay competitive, Elmcroft Senior Living, an assisted living facility at 1901 N. Amburn Road in Texas City, has begun offering an all-inclusive price, meaning residents move in at a base price, and as their health declines and their level of care rises, their monthly rates stay the same. Elmcroft, a 66-bed facility, also has begun offering a respite care suite, which is a place visitors can stay on a short-term basis while their caregivers vacation or take a break.
Elmcroft Senior Living opened 20 years ago as Hearthstone. Patti Abschneider began working at Hearthstone when it opened and recently returned as Elmcroft's community relations director.Mary Allen began as an aide there and is now executive director.Biz birthday: Break out the birthday cake. Ryson Real Estate and Vacation Rentals is marking 10 years in business. The company was established in 2006 and serves Galveston and surrounding communities. Ryson has more than 200 properties, including beach front, beachside, canal, luxury condominiums and apartments. Fifteen active Realtors and 17 employees work at the firm.Reach reporter Laura Elder at 409-683-5248 or [email protected].