LAURA ELDER The Daily News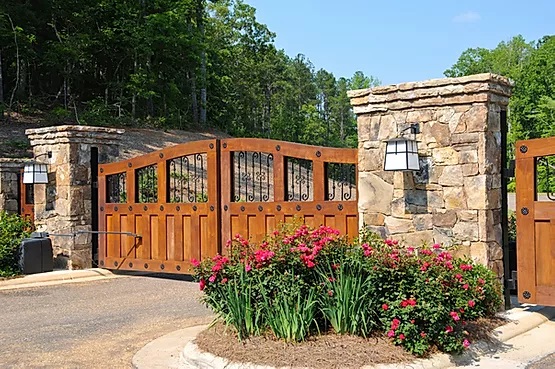 Keeping up with Karam: Friendswood attorney and developer Jerome Karam continues adding to his portfolio of high-profile projects. Karam on Wednesday closed on the acquisition of 58 acres along FM 517 that previously was home to Dickinson Country Club and golf course. He plans to develop 53 residential lots for a gated community.
Karam's development will revive what has been a long languishing property.
About 20 of the lots will have deep-water access and can accommodate large boats, and the remaining will have water views, Karam said. All will have water access from a common dock. Karam intends to install New Orleans-style gaslights and lamps and oak trees on the property.
Karam bought the property from John Hill, who late last year said he planned to open a restaurant and event facility at the site. The acquisition went down fast.
Karam was leaving church during Lent when he was approached by developer Don Barras about the property. Karam went out to look at the property and immediately signed a contract. Although the contract allowed Karam to close in a few months, he closed on it in three weeks, Barras said. "I've been in the development and homebuilding business for 45 years or more, and I've never seen anything close this quick," Barras said.
Several prospective buyers over the years have looked at the property, which is about three miles east of Interstate 45 and state Highway 3, at the corner of Country Club Drive and FM 517.
The country club already was struggling when Dickinson Leisure Industries DLI, of which Hill is a principal, acquired the property in 2000 with plans for developing an RV resort and driving range. Those plans changed after the city zoned the property residential, making operating a golf course a nonconforming use. Investors walked away, Hill said.
Few properties in that part of the county have access to deep water, said Barras, who represented both Hill and Karam in the real estate transaction.
Karam also finalized an agreement this month that will bring forth a hospital in Alvin, he said.
"It was the toughest deal I've ever done," Karam said.
Karam will lease a 93-acre tract on FM 528 — across from Kendall Lakes — to Foundation HealthCare. Karam, with two out-of-state partners, will build a 35,000-square-foot emergency hospital to suit Foundation HealthCare.
The 14-room emergency hospital will be built in a community that is underserved by such facilities, Karam said. Initially, Karam had been in negotiations for an Alvin facility with owners of the 69-bedUniversity General Hospital in Houston, which filed for Chapter 11 bankruptcy protection and which Foundation HealthCare bought in December for $33 million, he said.
"I'm so excited to be working with Foundation and Thomas Michaud," Karam said.
Michaud is the chairman and founder of Oklahoma-based Foundation HealthCare.
Foundation HealthCare owns and operates surgical hospitals, including ancillary hospital-based services, such as hyperbaric medicine, sleep labs, intra-operative monitoring, imaging and robotic surgery.
Work on both the Dickinson and Alvin developments should begin this summer, Karam said.
If there were a contest for who had the most developments in and around the county underway, Karam would be in the lead. He's becoming known for taking on projects and moving quickly ahead, where others have faltered.
Among his most recent and visible developments is the transformation of the once troubled Mall of the Mainland, 10000 Emmett F. Lowry Expressway in Texas City. Karam, along with an out-of-state partner, in March last year finalized the purchase of the 451,000-square-foot property, which has since signed on commercial tenants. He also has acquired separately owned department stores at the property, including Macy's, which is now home to Palais Royal and a 42,000-square-footWorld Gym, among other tenants.
In June 2015, Karam bought the dilapidated 313,000-square-foot Falstaff Brewery in Galveston. Crews are working on the first of several phases that will transform the old brewery building, including a site for about 350-space indoor/outdoor cruise-ship passenger parking area.
The next phase of the Falstaff site is the development of a boutique hotel, which would appeal to people who want to begin their vacation experience a couple of days before their cruises, Karam said.