By LAURA ELDER The Daily News
May 28, 2021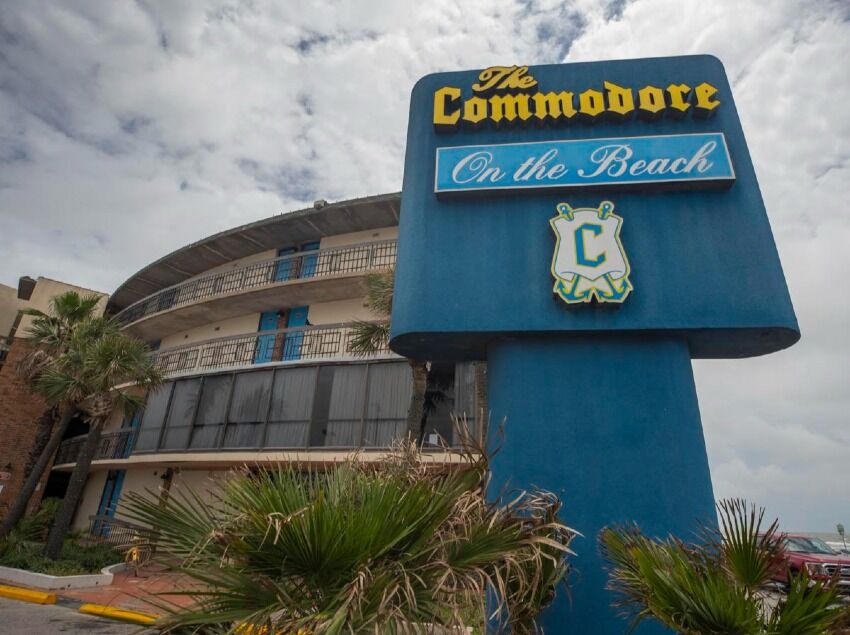 Room service: In a real estate transaction that will mean an interior renovation for a high-profile seawall hotel and a franchise expansion for a popular island eatery, the Galveston Restaurant Group has The Commodore on the Beach and The Gumbo Diner land and buildings under contract.
When the transaction is complete in about 60 days, Galveston Restaurant Group will own The Gumbo Diner property, and Friendswood attorney and developer Jerome Karam will own the hotel property, 3618 Seawall Blvd., both parties confirm.
Galveston Restaurant Group is acquiring the properties, which come as one tract in a package deal, from Houston-based BT&R, which acquired the 92-room Commodore property in 2017 from Gary Druss and family. After that transaction, The Gumbo Diner, 3602 Seawall Blvd., leased the property from BT&R.
BT&R in 2017 had intended to update the mid-century modern hotel, built in 1966, but circumstances changed.
Galveston Restaurant Group principals Johnny Smecca and Danny Hart weren't interested in getting into the hotel business anytime soon. The company that owns The Gumbo Diner, along with Saltwater Grill, Mario's Seawall Italian Restaurant, Papa's Pizza, Sky Bar Steak & Sushi, Little Daddy's Gumbo Bar and Taquilo's Tex-Mex Cantina, "wanted to stay in our lane," Smecca said. But to successfully franchise The Gumbo Diner at the seawall site — and elsewhere — it was important to own the property, Smecca said.
BT&R didn't want to sell parcels separately, so Smecca and Hart sought out Karam, a prolific developer behind a boutique hotel underway at the former Falstaff Brewery, 3303 Church St. Last year, he also acquired two small Galveston apartment complex buildings at 717-725 Broadway, which he's converting to short term rentals as leases expire.
Karam likely is the largest commercial property owner in Galveston County. He transformed the failing Mall of the Mainland into the thriving Mainland City Centre, a restaurant and entertainment complex at 10000 Emmett F. Lowry Expressway in Texas City.
"He can do things that aren't always easy on the surface," Smecca said of Karam. "Look at what he did in Texas City. He's a local person and understands how to work with the community."
Hart was instrumental in getting the deal worked out, Smecca said. Karam, who generally works solo, was happy to collaborate with Galveston Restaurant Group on the deal, he said.
"I was very surprised, attered and honored," Karam said. "They've been around for years, and I thank them for the opportunity, and I'm very excited to be a part of this."
Because the hotel is so near the beach, it's in a prime spot to take advantage of the island's booming tourism industry, Karam said. He plans to refresh all rooms a door at a time — there are four doors at the property — and make major improvements to the pool, he said. He's also in talks with Wyndham Hotels & Resorts to brand The Commodore on the Beach, along with his short-term rentals on Broadway, he said. Last year, Karam announced he had signed a franchise agreement branding his Falstaff Brewery property as a Trademark Collection by Wyndham.
When the real estate transaction is complete, Galveston Restaurant Group and Karam each will own and be responsible for their own properties.
Galveston Restaurant Group will then begin focusing on franchising The Gumbo Diner, which the company opened in 2013 in the space formerly occupied by the Dutch Kettle, which operated at the site for 37 years.
The company describes The Gumbo Diner as a place where "American dining and New Orleans air meet the beach."
The restaurant long offered food services to guests of The Commodore and will continue to do so, Smecca said. Stay tuned.
Read more at: https://www.galvnews.com/business/buzz/article_d38365f9-b27e-57a8-965b-9c37f07c27d7.html